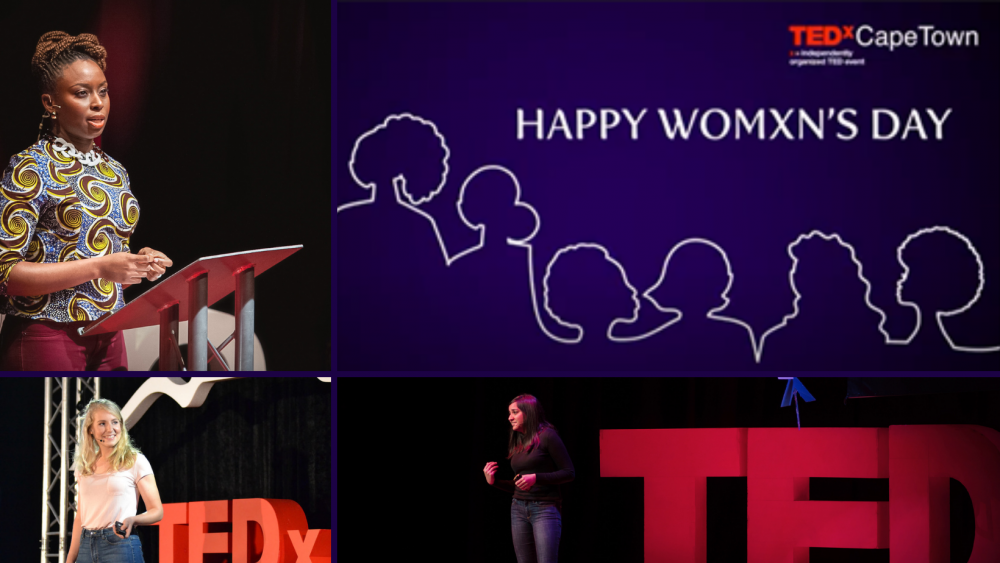 While one day simply isn't enough to celebrate the incredible things that womxn do, National Womxn's Day, commemorated on 9 August, is an unadulterated annual celebration in South Africa of strength and resilience that womxn hold within our society. 
As we commemorate the powerful women that pathed the way for us during the 1956 march to the Union Buildings in Pretoria, raising their voices and demanding equality, we're reminded that there is strength in unity and that together we can achieve anything. 
With this in mind...
Here are 7 amazing womxn that have walked local TEDx stages and the TED global stage and sparked ideas worth spreading:
Murunwa Mutele, "Afro-Feminism: A way to liberate African politics" 
Gender equality activist and Chemical Engineer, Murunwa Mutele, sets a call for action to challenge patriarchy in African politics. "My role is to pay attention to gender inequality, and that is what is missing in African politics." Her talk teaches us about  Afro-Feminism politics and the need for women in politics since the population of Africa is largely female. 
Teagan Phillips, "The funny thing about courage"
Teagan Phillips, an avid adventurer and the mastermind behind Unclipped Adventure comics, takes the TEDxCapeTown stage to deliver a witty talk that will have you laughing at your screen while learning a thing or two about courage and facing your fears.
"The way adventure teaches you about courage is by putting you in situations where retreating into your comfort zone is physically impossible." Teagan takes us along on her own personal adventure, traveling the globe on her bike and using courage as a way to navigate her experience, teaching us how to do the same. 
Leymah Gbowee, "Unlock the Intelligence, Passion, Greatness of Girls"
In March 2012, Nobel Prize winner and activist Leymah Gbowee stepped onto the stage and shared two powerful stories that focused on unlocking the greatness of girls and her own life's transformation.  This TED talk dives deeper into what happens when you take the time to connect with and unlock a girl's true potential; strengthening their commitment, focus and leadership abilities. 
Tracee Ellis Ross, "A woman's fury holds lifetimes of wisdom" 
A powerful and fearless TED talk by American actress, Tracee Ellis Ross, beckons womxn to give a voice to their fury, expressing centuries' worth of repressed anger and giving it space and time to "let it breathe." She also calls on men to become allies to womxn - to be open, reflective, and accountable. "It is man's responsibility to change man's behaviour," she shares. 
Chimamanda Ngozi Adichie, "The Danger Of A Single Story"
Chimamanda Ngozi Adichie, a globally recognised author, has faced many challenges and life lessons as a Nigerian living in America. She talks about one such lesson in her TED talk and warns against the misunderstandings and stereotypes that come with only hearing a single story about a person or country. 
Sethembile Msezane, "Living sculptures that stand for history's truths"
Setembile Msezane creates commanding works laden with spiritual and political symbolism combining performance, photography, cinema, sculpture, and drawing. In a City where statues are prominent, Msezane never saw anything that reflected her reality, so she channeled it into art and became a living sculpture. She shares the stories and motivations behind her fascinating performance art in this intense TED talk. 
Kriti Sharma, "How to keep human bias out of AI"
Technologist Kriti Sharma tackles social issues from domestic violence to sexual assault through her organisations, Al for Good and rAIndow. In this talk, Sharma looks at how a lack of diversity in the tech industry is affecting our AI and offers three suggestions for building more ethical algorithms.