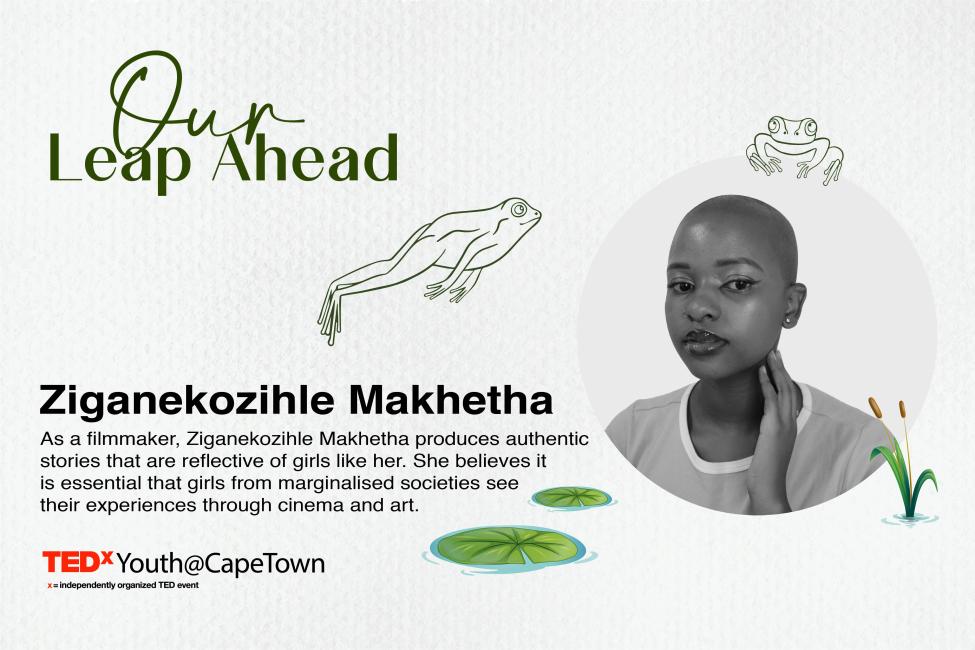 Ziganekozihle Makheta is a filmmaker, performer, facilitator and founder of the film production company WANTOW WANTOW.
Her passion for her industry goes beyond being in front of the camera and behind the scenes. For her, it is essential that she contributes towards the sustainability of the film  industry by learning how to cohesively dismantle ancient bureaucratic ways of operating. She does this by facilitating acting workshops that provide access to creative education and training while educating actors about  their rights.
Ziganekozihle's idea is about distributing films to marginalised communities in South Africa through our culture of infrastructure sustainability. She believes it is essential that girls from marginalised societies see their experiences through cinema and art, and as a filmmaker, produces authentic stories that are reflective of girls like her. 
Through her talk, she wants people to recognise the realities of our country; how we can contribute to shaping our world and maintaining our culture.
We asked Ziganekozihle a couple of questions to help you get to know her, before she takes the [email protected] stage.
What is your passion/ what gets you out of bed in the morning/ who or what inspires you?
Knowing that I am a talented black woman who is lucky enough to be aware of her capabilities to contribute to the world. I am passionate about telling stories and how where I am from influences my craft.
What do you hope to gain from this experience?
I hope I get to experience the different ideas that young people have to show and the stories they carry with them. I want to learn and be guided so I can grow as a creative.
What's your X? Big or small; obvious to those you meet or under the radar, we want to know what your everyday superpower is.
My superpower is being able to direct people. I know and understand people and I thrive at creating cohesive environments where I help people focus on enhancing their strengths. 
Which fictional character do you wish you could meet?
Elsa, from Frozen. 
If you had a superpower what would it be?
To eliminate anxiety from all human life.