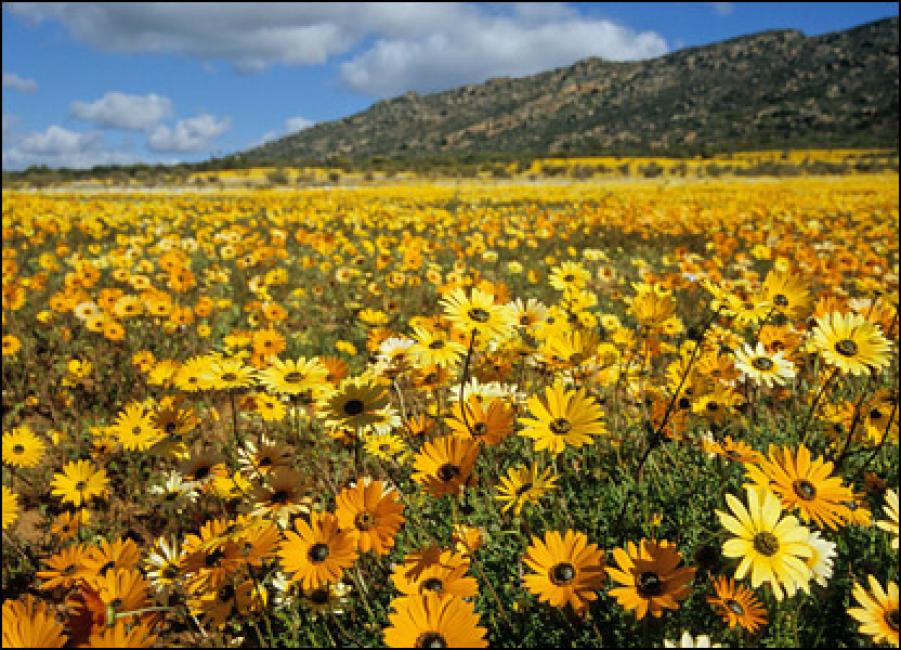 What We Do: Take TEDx beyond the stage to new audiences, to expose, engage and inspire 'ideas worth spreading'.
How? Our team focuses on #TEDxAdventures; Festival Activations that take TEDxCT to selected creative festivals around the country, where we screen curated TED & TEDx talks.
The Mission: Take TED talks to the 10th Anniversary edition of Namaqualand Flower Festival, a flower power experience of the outdoors, camping, dancing, music, a trail run, a spit braai, star gazing, and some unique outdoor activities all in one.
Partnership: TEDxCT joined forces with the No Danger Diaries for a flower-filled, wholesome adventure with a 4, 9, or 21km trail run, live music, open mic, star gazing, bushwalking, sunrise yoga and of course, TED talks.
The Festival:  The 1st - 3rd September 2017, the TEDxCapeTown community engagement team hosted a speaker evening at the Namaqualand Festival hosted at Gifberg Holiday Farm, Western Cape. TED-In-A-Box was used to screen various TEDx talks, and the wonderful Nikki Jackman, a past TEDxCapeTown speaker, gave a live talk that moved the entire audience - all protected against the sun in a Bedouin tent.
The Audience: The sold-out event brought an audience of about 200 like-minded people together, keen to experience the outdoors and enjoy frolicking in the spring flowers.
The screenings and live talks that inspired: The audience were blown away by mesmerizing TED screenings as well as a live talk by past TEDxCapeTown talk, 'The Joy of Giving' speaker: Nicola Jackman. Nicola Jackman blew the audience away with a live talk on Transformation. Nicola Jackman is an award-winning actress, voice artist & joy catalyst. She has been a professional performing "heartist" for 20 years, nowadays she brings all her character full delight to the stage & screen, with her own special brand of inspirational speaking as a JOY Catalyst and through her one-woman family show "MAfrika". To watch her past TEDxCapeTown talk, 'The Joy of Giving' follow this link. 
Other talks screened over the festival included the following:
How Radio Telescopes Show Us Unseen Galaxies - Natashia Hurley-Walker
Our universe is strange, wonderful and vast, says astronomer Natasha Hurley-Walker. A spaceship can't carry you into its depths (yet) -- but a radio telescope can. In this mesmerizing talk, Hurley-Walker shows how she probes the mysteries of the universe using special technology that reveals light spectrums we can't see.
Biomimicry in Action - Janine Benyus
Janine Benyus has a message for inventors: When solving a design problem, look to nature first. There you'll find inspired designs for making things waterproof, aerodynamic, solar-powered and more. Here she reveals dozens of new products that take their cue from nature with spectacular results.
How Can We Face The Future Without Fear, Together - Rabbi Lord Jonathan Sacks
It's a fateful moment in history. We've seen divisive elections, divided societies and the growth of extremism -- all fueled by anxiety and uncertainty. "Is there something we can do, each of us, to be able to face the future without fear?" asks Rabbi Lord Jonathan Sacks. In this electrifying talk, the spiritual leader gives us three specific ways we can move from the politics of "me" to the politics of "all of us, together."
Humble plants that hide surprising secrets - Ameenah Gurib-Fakim
In this intriguing talk, biologist Ameenah Gurib-Fakim introduces us to rare plant species from isolated islands and regions of Africa. Meet the shape-shifting benjoin; the baume de l'ile plate, which might offer a new treatment for asthma; and the iconic baobab tree, which could hold the key to the future of food. Plus: monkey apples.
How trees talk to each other - Suzanne Simard
"A forest is much more than what you see," says ecologist Suzanne Simard. Her 30 years of research in Canadian forests have led to an astounding discovery -- trees talk, often and over vast distances. Learn more about the harmonious yet complicated social lives of trees and prepare to see the natural world with new eyes.